20m Clear Span Party Tent From China Best Wedding Tent Supplier
Liri---- the first and biggest tent supplier manufacturing this tent in China. Offer best quality, most reasonable price and lifelong service only. More details you get interested in, pls don't hesitate to visit our website and timely contact us!
1. Application:
This wedding big tent can be widely used as the weddings, parties, exhibition, conferences, festivals celebrations, cafe shop, restaurants, corporate events, horse racing or other events, etc.
Size can be customized. Our tents width span can be 3m to 70m; No limitation for the length.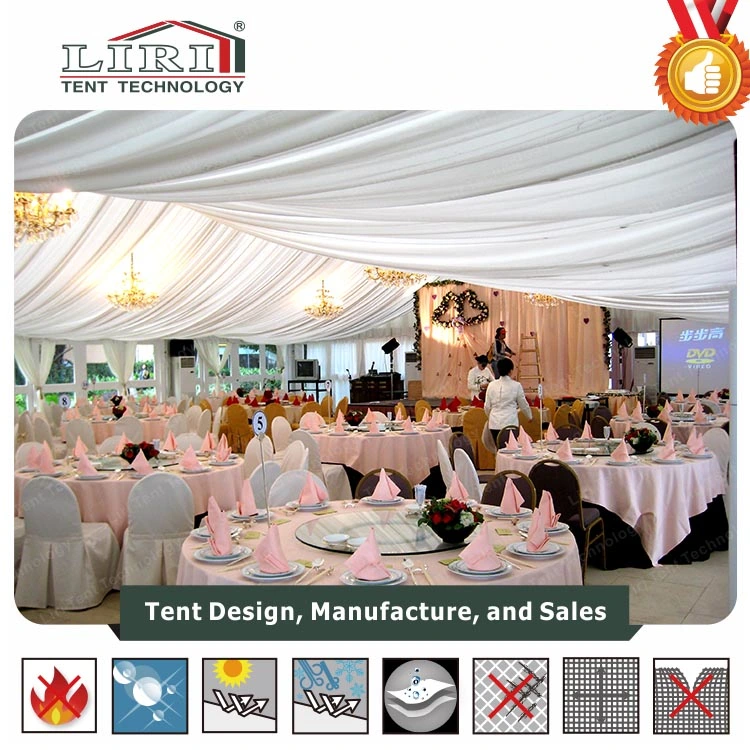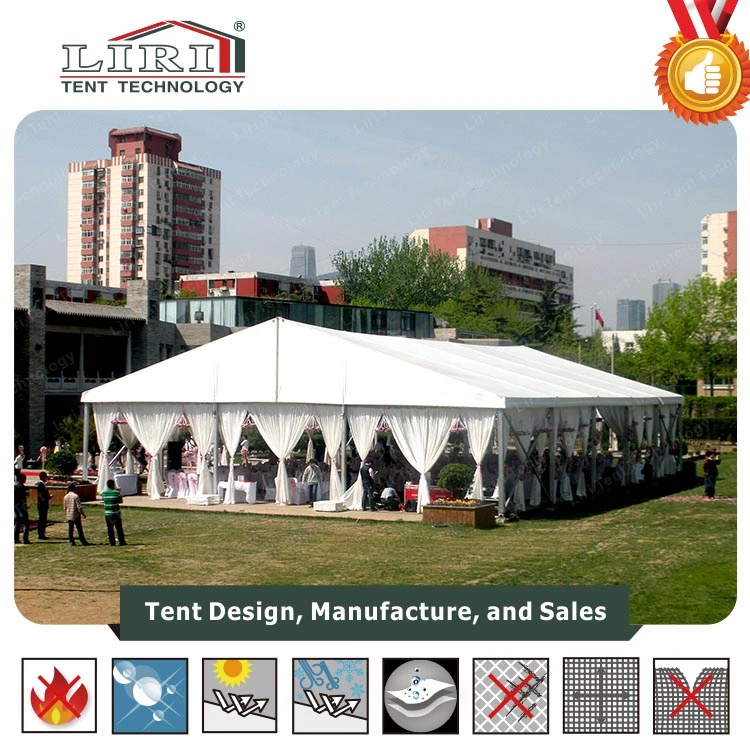 2. Specification for the big tent type (BT20/400):
For details, pls refer to below chart:
Main frame profile size for ET series: 204X120X4mm
Wind load: 100km/h
Minimum tent length: In order to reach the designed wind load and make sure the tent is safe, pls set up the tent with the required minimum tent length.
3. Material
3.1 Frame struss: Hard pressed extruded aluminium 6061 /T6(15HW) which can last 15 to 25 years.
3.2 Fabric cover: High quality double PVC-coated polyester textile, 100% waterproof, flame retardant to DIN4102 B1, M2, CFM, UV resistant, tear resistant, self-cleaning ability, etc. <o: P>
3.3 Connecter: Strong hot-DIP galvanized steel, zinc thickness over 80um
4. Features & Specification
4.1 Allowed temperature condition: -30 degree Celsius~+70 degree Celsius
4.2 Wind load: Max. 100km/h (can be reinforced)
4.3 Snow load: 75kg/sqm (snow can't stay if use big degree roof design)
4.4 Easy to be assembled and dismantled, removable
4.5 No pole inside, 100% room is available
4.6 Sizes can be customized(like side/leg height)
5. Optional accessories
5.1 covers: Colorful cover, transparent cover, inflatable roof cover
5.2 sidewalls: Glass wall, PVC hard wall, sandwich panel wall, fiber glass wall
5.3 windows: Dome or square clear PVC windows, mesh window, glass window
5.4 doors: Double-swings glass door, single-swing glass door, glass fire door, hard PVC door, rolling door
5.5 wooden flooring system
5.6 rain gutters (inner roof beam rain gutter or rain gutter between two tents)
5.7 lighting, AC, carpet, etc.
6. Optional Fixing methods
6.1 Ground anchor(steel peg): For soft ground surface like, earth, sand, lawn, etc.
6.2 Inflatable screw: For hard surface like, cement, stone, or prefab concrete cubic, etc.
6.3 Weight plate: For protective ground surface like marble, ceramic & tiles, asphalt, brick, etc.
If the customers need above certificates copy, pls feel free to contact with Liri Tent Technology. We will not show them on the website to avoid copys.
Dimension
Clear Span
Eave Height
Ridge Height
Bay Distance
BT10
10m
4m
5.53m
5m
BT 12
12m
4m
5.83m
5m
BT 15
15m
4m
6.3m
5m
BT 18
18m
4m
7.06m
5m
BT20
20m
4m
7.1m
5m
BT21
21m
4m
7.25m
5m
BT25
25m
4m
7.88m
5m
Length
No limitation
Main Structure Profile
204*120*4mm
7. Our contact information
Zhuhai Liri Tent Technology Co., Ltd
Add: No. 7 Dongfu Street, Xin Qing Science & Technology Industrial Park Doumen, Zhuhai, Guangdong, China.
Contact person: Chloe Yu
Tel: +86-0756-6320929
Mobile: +86-188 1865 0996