1.Yurt Tent Specification
Mongolian Yurt Tent Winter Canvas Tent Refugee Tent
(1)
Size:12-200 sqm
(2)
Diameter:3.9-16m
(3)
Eave height:1.7m,1.8m,1.9m,2m;
(4)
Top height:2.8m,2.9m,3m,3.1m,3.2m,3.5m,7m;
(5)
Color:any color can be used.
Specs
(sqm)
Diameter
(m)
Side
height (m)
Top
height(m)
Forecast
Weight(kg)
Forecast
Volume(cbm)
Ridge
height (m)

12

3.9

1.7

2.8

200

2

aluminum and bamboo

15

4.44

1.7

2.9

250

2.5

aluminum and bamboo

21

5.12

1.7

3

280

3

aluminum and bamboo

31

6.23

1.7

3.1

400

3.5

aluminum and bamboo

50

7.9

1.8

4

600

4.5

aluminum and bamboo

63

9

1.9

4.5

720

5

aluminum and bamboo

78

10

1.9

4.5

890

6.5

aluminum and bamboo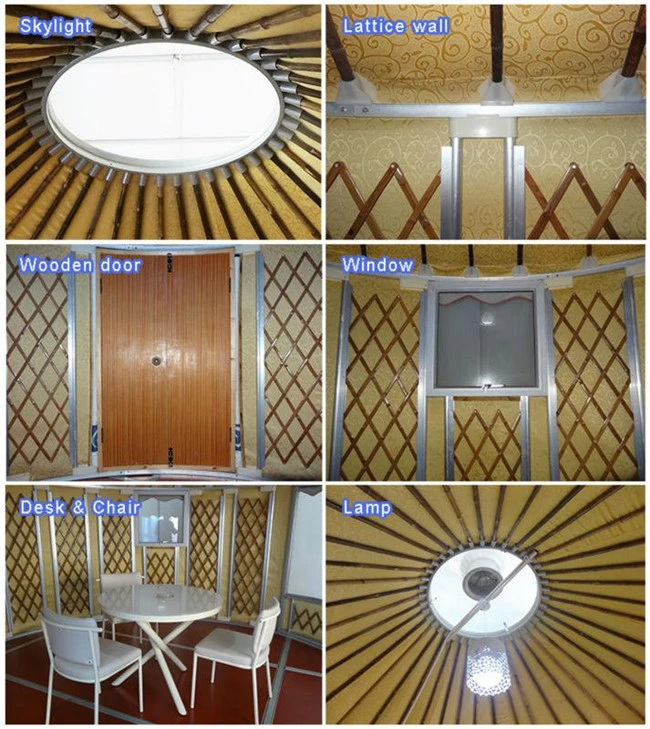 2.Yurt Tent Frame Materials
Traditional and luxury yurts are made of aluminum alloy,PVC flame-resistant,engineering plastic and heat preservation materials.
Ecotypic yurts are made of bamboo strips.They are composed of door,wall,deepings,connecting fittings,stay bars,slippers,clearstory and so on.
3
.Yurt Tent Fabric Materials
There are 4 layers including:inner decorated cloth,warm felt,waterproof canvas and external decorated cloth,which is mainly white with some paintings in national feathers.
4.Yurt Tent Packaging & Shipping
Aluminum frame packed in membrane film;
Hardware packed in woven bag;
Roof and sidewall in professional PVC carry bag;
Customized package for yurt tent.
Company Information
Changzhou Changyi Exhibition Tent Limited Company is a professional integrated enterprise specialized in developing and selling all kinds of large, medium and small sized outdoor tents.We mainly provide safe & high quality outdoor tents and perfect services for stations, exhibitions, celebration ceremonies, beer festivals, storage and parking places, leisure activities and more.
In the developmental process, our company has always insisted on the business philosophy of "customer paramount, people-oriented and safety first".We adhere to the principle of "high quality services, reasonable prices and win-win cooperation". We will hand in a satisfactory answer to domestic and foreign customers.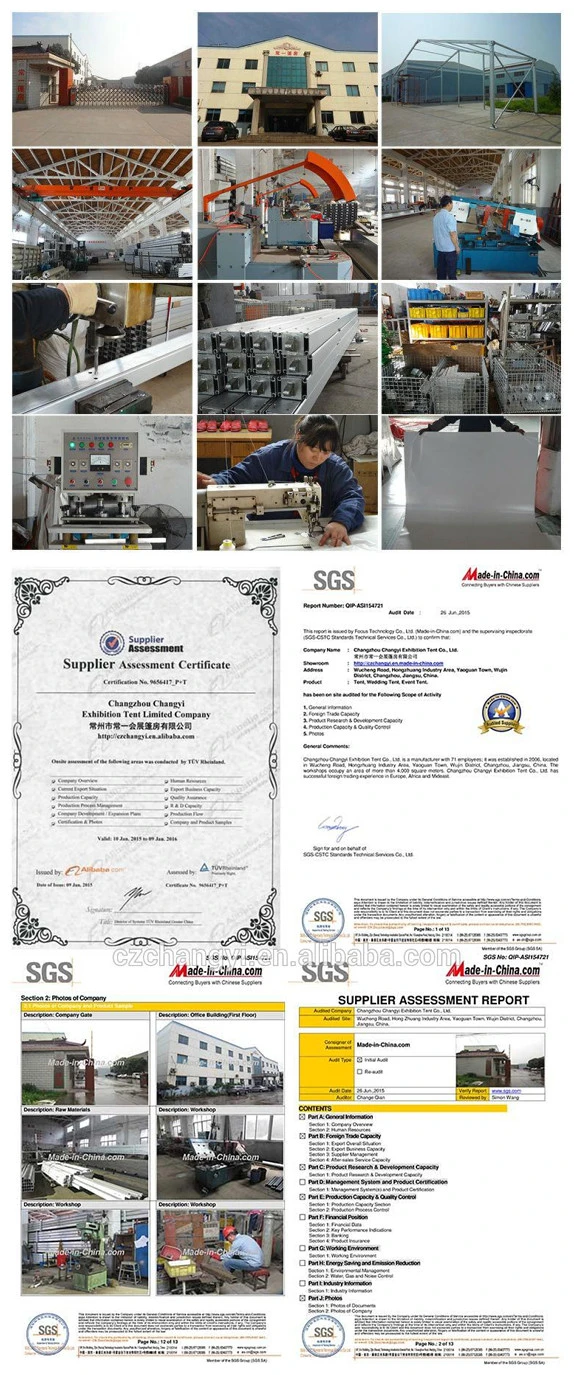 RFQ:
Q:Are you factory?
Yes, we are factory,making outdoor furniture.Such as Mongolian tent
Q:Is that factory price?
Yes.We assure you all prices are based on factory.
Q:What is the material of your yurt tent?
Yurt tent main frame is bamboo and aluminum alloy.The cover is four layers:inner cloth,warm felt,waterproof canvas and external cloth.
Q:What is your payment terms?
The payment should be 30% deposit after order confirmed,70% balance before shipment.
Q:What is your delivery time?
It is about 20 days,the date from paying the deposit.
Q:What is the service life of the yurt tents?
Mongolian yurt framework can reach 15-20 years,and 5-8 years for fabric layers.
Q:How do I visit your factory?
Our factory is near Shanghai port.
Our address is Hongzhuang Industrial Park,Yaoguan Town,Changzhou City, China.
1-hour train from Shanghai to our factory.
2-hour airplane from Guangzhou city/Beijing city to our factory.